As we continue to grow as an organization, a family, and a community of accomplices – we will always hold true to our foundational and radical beliefs in the capacity for good, in the abilities of all people to be the best versions of themselves, and to dismantle the systems that plague our communities. We will always be partners with those impacted by the prison industrial complex, the atrocities it enacts, and we will not rest until it is completely dismantled. Because we not only imagine a world without prisons, we demand it.
2005
● Black & Pink founded in Boston by Jason Lydon.
● The organization began as an explicitly anarchist project, so the name was chosen to represent the black flag of anarchism and the power of queer politics and experience.
2006
● First public action, disrupting the Cambridge, MA National Coming Out Day event at City Hall. Successfully took over the event and spoke about the harms of incarceration on LGBTQIA2S+ people with all those at the event.
● Nearly 150 incarcerated members by the end of the year.
● Collaborated with Prison Book Project in Massachusetts and their resource development of Locked Out, an LGBTQIA2S+ prisoner resource list.
● Co-organized with the Statewide Harm Reduction Coalition, SHaRC, in efforts to stop the Chicopee Women's Jail.
2007
● First inside newsletter was created.
● Black & Pink began to participate
in national campaigns and gatherings including the Transforming Justice convening in Oakland (report on the gathering available
here
).
2008
● First semi-chapter of Black & Pink, Queers Against Prisons, starts in Philadelphia headed by danni west.
● Successfully advocated for a trans woman to get out of solitary confinement in Massachusetts.
● Black & Pink gets added to resource lists distributed to incarcerated people across the country.
2009
● Joined an international effort to collaborate between LGBTQIA2S+ focused prisoner organizations that do pen pal support, coordinated by Dean Spade.
2010
● Co-led successful campaign to stop Massachusetts from charging incarcerated folks $5 a day for their own incarceration.
● Conducted the first mini-survey of inside members focused on "developing leadership" with currently incarcerated members. 20 people responded.
● First group of inside members were paid for their artwork through the San Francisco Artists Against Rape Project.

2011
● First Black & Pink retreat during which the statement of purpose and values of Black & Pink were established.
2012
● Received first grants from Sparkplug Foundation, Astraea, and Resist.
● In the summer, Jason Lydon became the first full time National Director.
● Partnered with Critical Resistance and The City School to host a season of events focused on abolition culminating in an event with Angela Davis, Noam Chomsky, and Vijay Prashad.
● Began posting bail for people in Boston- this would be the first iteration of a bail support program.
2013
● Created Hot Pink, erotic zine made up of inside members written erotic stories and Spirit Inside zine made up of inside members writing about faith.
● Participated in the Criminal Justice Policy and LGBTQ/HIV communities gathering at Columbia University which resulted in the Roadmap for Change report and then the National LGBT/HIV Criminal Justice Working Group.
● San Diego Chapter is created.
● Became part of the Out for Change Transformative Media Organizing Project out of the MIT Media Lab.
2014
● Survey project begins, which results in 1,200 incarcerated folks responding leading to the release of Coming Out of Concrete Closets.
● Inside members vote to include people living with HIV/AIDS in the Black & Pink mission regardless of sexual orientation or gender identity.
● NYC chapter is created.
● Western Mass chapter is created.
● Ohio chapter is created.
● Flying Over Walls/SF Bay Area chapter is created.
2015
● Denver chapter is created.
● Sent formerly incarcerated members to the summit for LGBTQIA2S+ People of Color at the White House and some members were denied entry.
● Providence chapter is created.
● Hosted first ever National Gathering of Black & Pink chapters.
● Released Coming Out of Concrete Closets research.
2016
● Created partnership with Northeastern University School of Law to create prisoner self-advocacy resources focused on multiple states with highest prisoner members.
● Inside membership surpasses 10,000.
● Black & Pink National officially becomes a 501c3.
2017
● Dominique Morgan is hired as Black & Pink National Executive Director.
2018
● Black & Pink National expands programming to provide direct investment/support services to formerly incarcerated members.
2020
● Black & Pink National grows from a 3-person staff in 2019 to a 15-person staff by the end of 2020, all while surviving the COVID-19 Pandemic and providing for our members' foundational needs.
● Black & Pink National opens Lydon House in February 2020, intentionally centers the housing needs of Black trans and queer people. Lydon House serves 6 residents and 50 community members in its first year.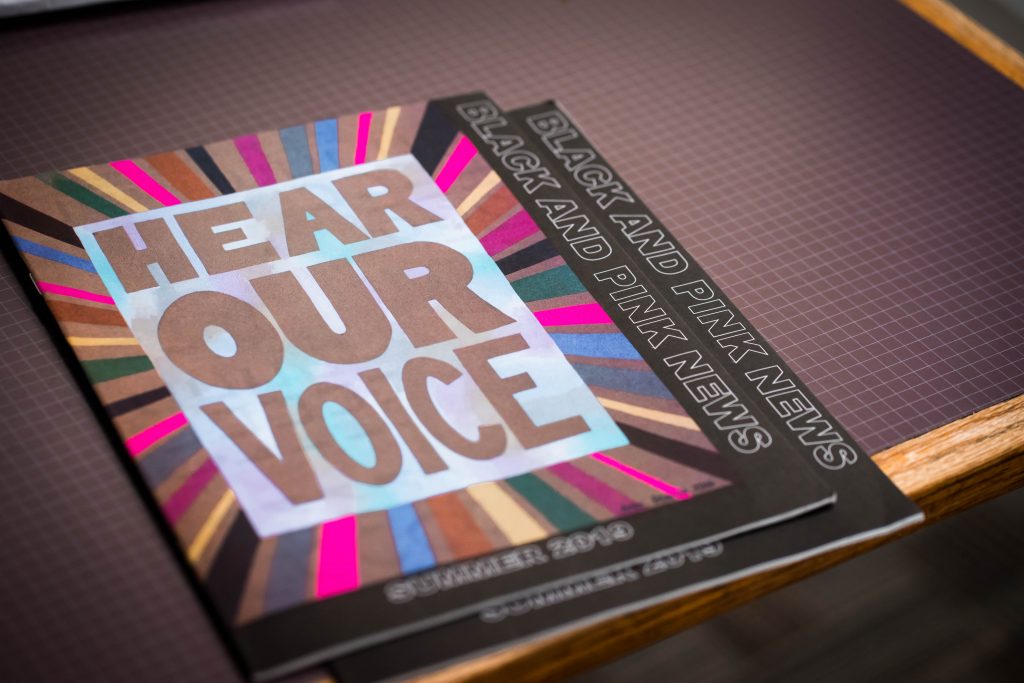 We are currently not hiring but check back for future opportunities.