The holiday season can be a really difficult and isolating time for folks inside, especially for our Black & Pink National family who might not have loved ones to connect with on the outside. Our holiday cards help to bring moments of joy, connection, and community to our members - But we need your help!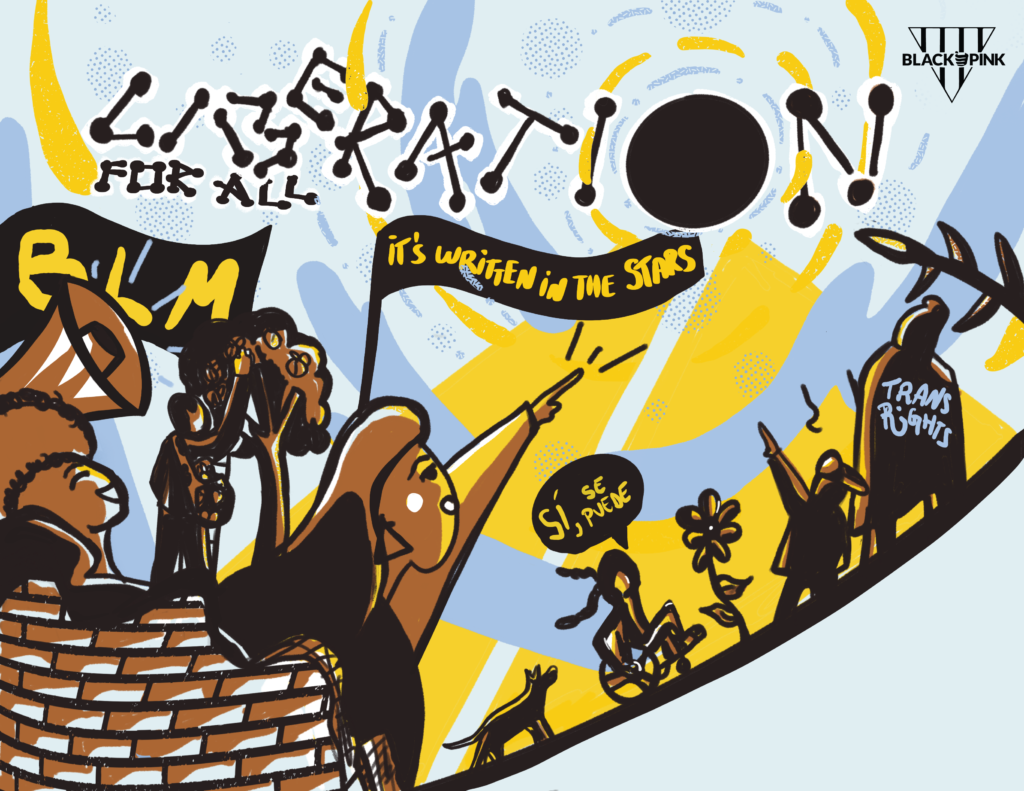 Black & Pink National is grateful to have collaborated with Raffi on the artwork for this year's campaign!
Raffi (they/them) is a queer, trans, bi-racial Arab immigrant designer who specializes in branding, graphic design, and illustration through a social justice lens. With over 12 years of experience, Raffi has created powerful branding through stories and design for organizations that are shaping a better world.  More of Raffi's work can be found at thedreamcreative.com
Raffi shares their inspiration for the artwork they created: 
This card depicts community freedom that is sacred and "written in the stars". On the bottom left, a wall is broken and community members from all walks of life come together to watch the stars and be free.
The holiday cards our community sends during our annual holiday card campaigns help to bring moments of joy, connection, and community to our inside family, and serve to send a clear message to correctional staff and other incarcerated people that people on the outside are watching out for and care for our incarcerated members. 
Please visit our PenPal Pairing Site where we have included a holiday feature allowing community members to receive the contact information for 5, 10, or 15 inside members, and send some holiday love to our incarcerated family!
Please print off this holiday letter (color version, black & white version) and make sure to write a personalized holiday greeting to make each of your assigned members feel seen, affirmed, and cared for this holiday season. (Please note: If you feel uncomfortable including your own return address, please use Black & Pink National's Inside Member Mailing address: 6223 Maple St #4600, Omaha, NE 68104)
For our community who are already connected with PenPals, we hope that you will print our special holiday letter (color version, black & white version) to send to your inside loved ones! 
Please share this information far and wide to help us send holiday cards to all of the more than 19,000 incarcerated members who are signed up for the PenPal Program! Last year this community mobilized to make sure each member received *two* holiday cards, and we'd love to reach that again – Check out this toolkit for community leaders and mobilize your community to send some holiday care!