Support our African trans siblings at Reuniting of African Descendants (R.O.A.D.)!
As we celebrate Pride month and the increased visibility of US-specific trans and queer liberation issues that comes with it, we are also thinking about trans and queer folx across the world who are heavily impacted by anti-LGBTQIA2S+ violence – people like the trans and queer folx in areas of Africa who are forced to navigate incredibly oppressive and violent systems daily. 
Trans folx in many African countries face extreme rates of violence, such as criminalization and incarceration, societal and interpersonal discrimination and harrassment, lack of access to gender-affirming care (including Hormone Replacement Therapy), lack of access to legal name changes and IDs, high rates of sexual violence, and severe violations against their bodily autonomy and human rights. Our African trans siblings need our attention and support, which is why we are proud to amplify the work of one of our community partners, Reuniting of African Descendants (R.O.A.D.).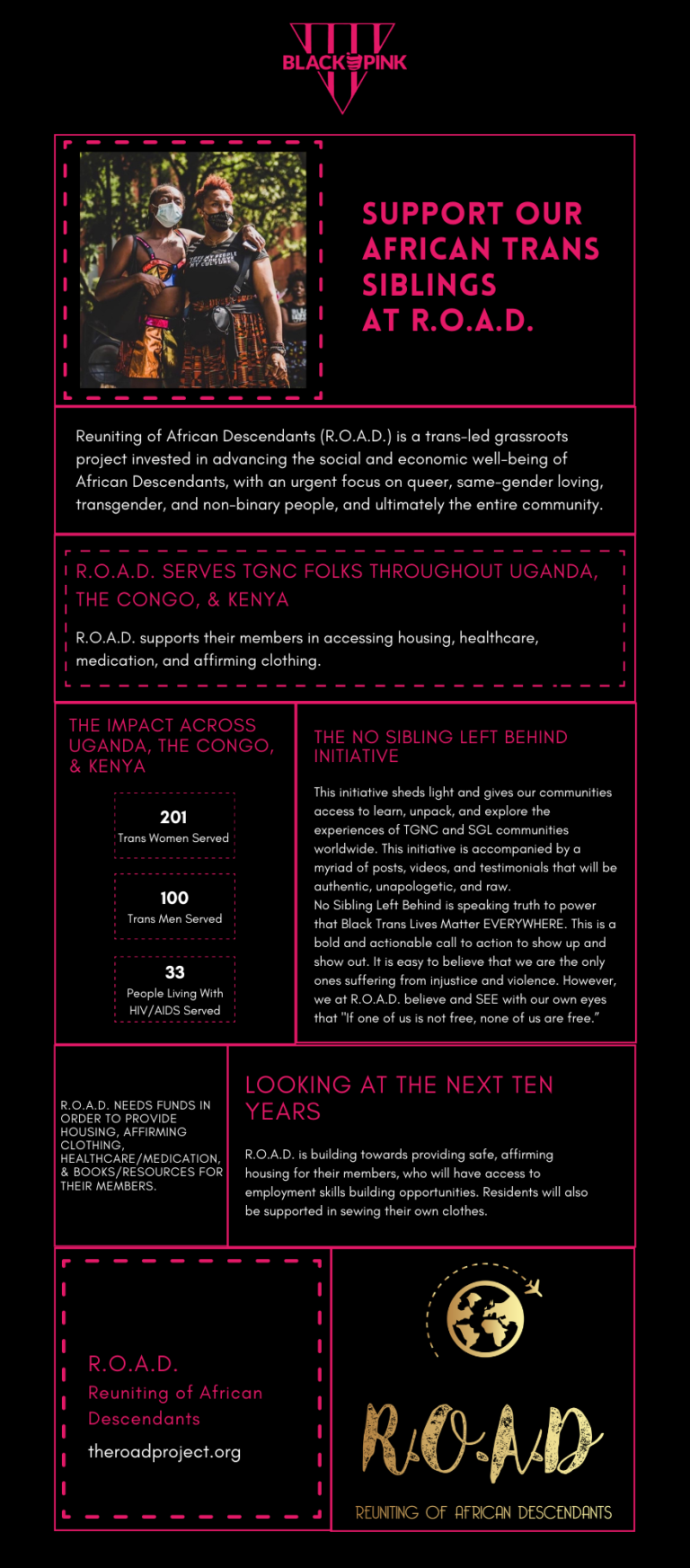 R.O.A.D. is a trans-led, grassroots initiative invested in equity, collective growth, and healing for LGBTQIA+/same gender loving (SGL) people of African Descendants. R.O.A.D.'s work is rooted in ending genocide against Trans and Queer people of African Descendants, and they achieve this through a variety of programming. One of their campaigns, the "No Siblings Left Behind" Initiative, sheds light on the injustices faced within our TGNC and SGL communities across the African Diaspora, and speaks truth to power in stating that Black Trans Lives Matter EVERYWHERE. 
R.O.A.D. serves TGNC folx throughout Uganda, the Congo, and Kenya. They support their members in accessing housing, healthcare, medication, and affirming clothing – And they need our support in order to do so! Will you contribute today to ensure that R.O.A.D. can provide items like books, clothing, chest binders, and medication to their members?
As R.O.A.D. looks at their next ten years, they are committed to building towards providing safe, affirming housing for their members, as well as access to employment and skills building opportunities. Residents will also be supported in sewing their own clothes. Please support their work and vision today! 
I am thrilled to share that I'll be joining R.O.A.D.'s founder, Nala Simone Toussaint, for a live conversation on social media where we will hear about her organization, her advocacy efforts to fight against harmful policies, and her vision of a world where all Black trans and queer people are safe, healthy, and happy. Please keep an eye out on our social media (info below) for this conversation. 
Contribute to R.O.A.D. today to send some love and solidarity to our African trans siblings!